As shallow as it sounds, one of the questions I considered carefully before leaving home was…
"How on earth will I be able to keep up with my beauty routine while traveling?"
That being said I do truly believe that feeling good about your appearence (and i'm also talking about your health here) is essential to your daily well being and happiness.
I'm not that girl who carries the latest hair style or visits beauty salons for treatments (infact I haven't been to a hairdresser in over 5 years) However I do commit a certain amount of time to maintaining my appearence at home through skincare products and gizmos off the shelf but also alot of home made treatments.
I do this mainly because I actually really enjoy it (who doesn't love a good pampering right?) but also because it gives me a confidence and self esteem boost that we all need from time to time.
I have a theory that a genuine smile is our best asset and tool in life, it opens doors and leads to greater oportuniities but who feels like smiling when you feel…well yucky. Not me.
A makeup free Gabby demonstrates this perfectly:
At home my beauty regime was faily extensive; I would steam my face, use a range of facemasks and toners, hot oil treat my hair, trim my hair, use hair masks, hair rinses, use a Clarisonic Mia, dry skin brush, use homeade whitening toothpaste, bathe in epsom salts, night cream, day cream, eye cream, sun cream, moiturise everywhere, use gradual tanner, tint my lashes and brows, exfoliate daily, pedicures, manicures, exercises, plucking, waxing, pinching ….the list goes on and on.
When we began thinking about what and how much we could pack I had to carefully condense my beauty products (at Joe's insistance) into a very very minimal kit that ALMOST fits in one toiletry bag.
So with out further adoo, here are My Top 10 Beauty Life savers for traveling.
Note: Many of the images are also links to Amazon where the products are available.
#Number 1
A Quality Deoderant
Not really a beauty product but a good deoderant goes a long way to help maintain level of hygiene and keeps you feeling fresh and confident.
I swear by Sure Maximum protection clean scent, (I haven't tried the other scents that are around now but they look great) although its a little more pricey than your average roll on it works harder and lasts longer (48 hours) and even continues working after a shower. I didn't quite beleive this when I was standing in tesco 3 years ago reading it on the back of the box but like many new products I will give them a shot and this one has been lingering in my life ever since. I have not found a more satisfactory deoderant. It actually does what it says on the tin and has a bonus baby powder clean type smell.
I havnt tried any premium brand deoderants (mainly because Joe would freak out if I spent any more than £12 on a deoderant when he spends 45p in Lidl)
Luckily I think this one is perfect.

#Number 2
Dry Hair shampoo or Fine Talk
Have you ever tried other Dry hair shampoo products? When I say other, you know what I mean don't you (other than the one and only undisputed master of dry hair shampoos, Batiste)
I get through this stuff farily quickly and have often been tempted to try better value brands, all have been a complete flop. Like unbelievably a complete flop. I have even tried more expensive brands (chirtsmas gifts etc) and still the same complete flop.
I gave up experimenting and a swore my allegence to Batiste and thier growing range of products.
I have however
found a very cheap alternative to buying dry hir shampoo that even Joe has got onboard with…
Fine talk. you have seen the stuff that comes out the can, fine white moisture absorbing powder.
I tried flour first, yes self raising flour
Then I tried baby powder and voilaa. looks great, smells great, jobs a gooden.
It really helps towards that fresh feeling! If I had a bigger travel budget I would pick the nice neat can on Batiste just because its more conveniant.
Baby power/ talc is a great pocket money freindly alternative.
#Number 3
A hardworking Facial Scrub or Sonic face brush
I am somewhat of an obsessive facial exfoliator. I have a large range of scrubs and facial sponges/brushes including a clarisonic Mia 2 which I have been using for just under 6 months now.
Being in a campervan I could just about justify packing my Clarison Mia 2, much to the dissappoval of Joe as it takes a whole 18 Hours to charge. Yes, 18 hours, not exactly ideal in a campervan. On the plus side once fully charged it will last just over two weeks.



There are many reviews out there on Clarisonics facial and body brushes.
Im sure you dont need me to tell you they are great. I use mine in conjuction with Lancolm Gel Eclat. Possibly my all time favorite cleanser.

Obviosly the Mia isnt really an option for backpackers and more sensible people than myself.
My facial Scrubs Consist of Vichy Micro-1 dermabrasion Cristaux d'oxyde d'aluminium which came in the peel Microdeabrasion kit. I cannot recomend this enough!
Santuary Radiance Exfoliator (smells amazingly fresh and lemony) and
Garnier Skin Naturals Pure Active Scrub. I have been using the Garnier Pure active range since I was a spotty teen and have frequently returned to it over the years, keeping it as an inexpensive but reliable staple in my toiletry bag.
Being outdoors alot of the time in dusty sunny hot conditions I
I can't tell you how good it feels to scrub it all away at the end of the day!
#Number 4
Brow and lash Tint
I was a late comer to brow tints, instead I opted for brow pencils and powders. After the hype around HD brows I watched a few technition demonstration videos on youtube and decided to give it ago at home. I bought the first brow tint kit I could find (Eyelure) in superdrug and slapped it on.


I was very very pleased with the results and have tinted my brows with the same product once every 2 weeks every since. Its great for traveling as most of the time you will want to be makeup free.
the kit is minuscule, it would fit in your pockets and its very easy to use.
I do NOT recommend this, but I double its use and apply it on my lashes too. The box advises not to do this, when you get it in your eyes you will quickly see why. It hurts. Like it really really hurts. I have mastered the technique of coating my lashes and manage to avoid any eye contact these days.
#Number 5
A non or Minimal damage hair brush that will fit anywhere.
I avoid brushing my hair as much as possible, I never sleep with it down and keep it in a protective plait most of the time. If I have to, I use a tangle teaser. I think they're spot on. Super soft bristles and non static too.


If you are looking to get a non-damaging hair brush the trick is to find the one with the most flexable teeth/bristles. Run the palm of your hand over the teeth, if the teeth bend with ease your on to a winner. I also use a spray in/ leave in conditioner or serum after de-tangling my hair, this helps to keep the frizz down in hotter and more humid conditions.

#Number 6
A Mini travel nail kit
I couldnt live without a nail file. Well I could. But whats more annoying than having a miss behaving nail snagging your new wooly jumper. Most people would think I was lucky to have fast growing nails, there are so many nail enhancement products and treatments out there from supplements to just giving up and sticking on a bunch of fakes.
But actually fast growing nails are an annoyance, they quickly become too long and make simple tasks difficult. Playing guitar, writing, opening car doors..all difficult with long nails.
Keeping your nails faily short and tidy while traveling helps to keep hygiene up and makes putting up tents and making sand castles easier!
#Number 7
Sun block Products
This really should be number 1, hmm, Im not at all sure about the order of my top 10.
A quallity sun cream/block is absolutely essential to travelling. I am 24 now and have started using preventative products against lines and wrinkles, obviously most important is sun cream.
I wear Factor 50 on my face and chest and Factor 30 on my body.
I bought this Clarins travel kit a few years ago and have been rebuying the products ever since. It
does the job perfectly, smells amazing, they all absorb very quickly and are completly transparent, non greacy and non sticky! plus the after sun is devine. Sadly its only available duty free!

I also tend to buy babies sunblock products as they have less chemicals and stronger protection although "warning" some of them no matter how long you try, will NOT blend into your skin and you end up looking like a corpse on the beach. Obviously this isn't a concern for babies.
I also carry a few Tesco sunblock sticks around in my bag, They are factor 50 and cost only £2 each!! these are sticky and unpleasant and frankly look and smell like pritstick but they are compact and great for quick apllication when your turning a little pink.

#Number 8
Wipes of all varieties.
Femine wipes, makeup wipes, hand wipes. All very usefull for travelers.
I have found that Lidl has a great range of wipes for all sorts of uses. They are all Priced at a crazy 99p each and I have so far been very impressed with them.


I use the pink sensetive facial wipes for removing makeup when i'm just too tired (too drunk) to manage anything more. They do a great job on my oily skin! I also use them thorughout the day just to freshen up.
I also use Lidls Floralys hygene wipes for bathroom visits


and Floralys "kids" wipes just because they are adorable and come in strawberry and banana scents.
#Number 9
Quality Hair Scizzors
I trim my own hair. This has saved me alot of money and many inches on my hair. I also cut Joe's hair so we are faily low maintenece in that department.
Neither of us have any layers so its a pretty simple task and makes keeping healthy hair a minmal effort. I bought scissors from Boots years ago that cost me around £19 and seem to do a nice job, although after years of Joe sneakily using them on his beard I could probably do with a new pair. It's important to look after them!
It is essential when buying hair scissors to find extremely sharp close blades as ordinary scizzors will 'crush' the ends of your hair rather like pliers on wire rather than a nice sharp finish.

#Number 10
A Shower Louvre or dry skin Brush.
I use my dry skin brush around 3 times a week, I find it very pleasant although it did take some getting used to at first! I bought this one in boots..
http://www.boots.com/en/Botanics-Detox-Brush_1275770/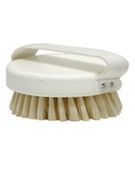 It really does feel great after weeks of swimming in the sea and baking in the sun to scrub away at drying skin. I usually do it before using a louvre in the shower for an increased affect. It's amazing!